Reports of Paul Stastny 'unhappy in Arizona'
By Keven Breton (
Coyotes) On Monday 13th November 2023 / 6:24pm
A few differents journalists reported on Monday that centreman for the Arizona Coyotes was ''unhappy'' and ''upset'' with his role within the team.
Paul Stastny, a 37 years old veteran who played more than 1000 games in the league, signed a 1 year contract with the Coyotes last summer, for a value of 1,425,000 $.
When he agreed to those terms in August as an unrestricted free agent, he was told he would be given opportunity to play solid minutes. He is however only averaging 6 minutes a game, on a fourth line. Stastny is the Coyotes only regular player without a point this season, recording 0 goal and 0 assist in 13 games. He is also -2 and he registered 3 hits, the lowest number amongst his teammates.
''I want to help the team win but I dont think I get the right opportunities to do so at the maximum of my capacity'' said Stastny after a morning skate. '' I will do whatever Bruce [Boudreau, the team coach] ask for me except sit on the bench and wait, that's not my style.''
Paul Stastny agent refused to comment the situation, same for the GM of the team.
The Coyotes play the Dallas Stars tomorrow, in Texas. Arizona (7-5-2) are in the middle of a six games road trip.
New Comment
---
Pastrnak Named Flames Captain
By Simon Apter (
Flames) On Wednesday 11th October 2023 / 4:36pm
David Pastrnak has been named captain of the Calgary Flames, taking over from Steven Stamkos who was traded to Buffalo before the start of the season.
"David is a cornerstone piece of our franchise," said GM Simon Apter. "He's a leader in our dressing room and will continue to grow into this role as the season continues."
"It is an honour to be named captain," said Pastrnak. "I am happy to know that my teammates and management have confidence in me to lead this group for the foreseable future."
Offseason signings Nick Leddy and Brian Dumoulin will be alternate captains this year providing years of experience to help Pastrnak in his new role.
The Flames opened the season with a decisive 4-1 vicotry over the Winnipeg Jets at the Saddledome. Jared McCann has a hat trick and Thatcher Demko has twenty-five saves in the victory.
McCann's linemate Filip Chytil and Leddy each had two assists. Brady Skjei scored his first of the season on the powerplay as the Flames special team unit scored twice in three tries with the man advantage.
The shorthanded unit was perfect killing off five Winnipeg powerplay opportunities.
View comments (1)
Keven Breton (
Coyotes)

On 11th October / 4:51pm

:

Good choice!
New Comment
---
---
Tampa Bay Lightning raising the banner
By Frederic Monette (
Capitals) On Wednesday 4th October 2023 / 5:44pm
Big big day in Tampa as they are raising the Stanley Cup banner to the rafters of 2M4B
Congrats to Scott Donais and his organization
View comments (1)
Scott Donais (
Lightning)

On 4th October / 7:00pm

:

It's beautiful! Thank you, Fred!
New Comment
---
---
Congratulations to our new Stanley cup champions
By Frederic Monette (
Capitals) On Wednesday 31st May 2023 / 12:24pm
The Tampa bay Lightning!

Congrats Scott Donais.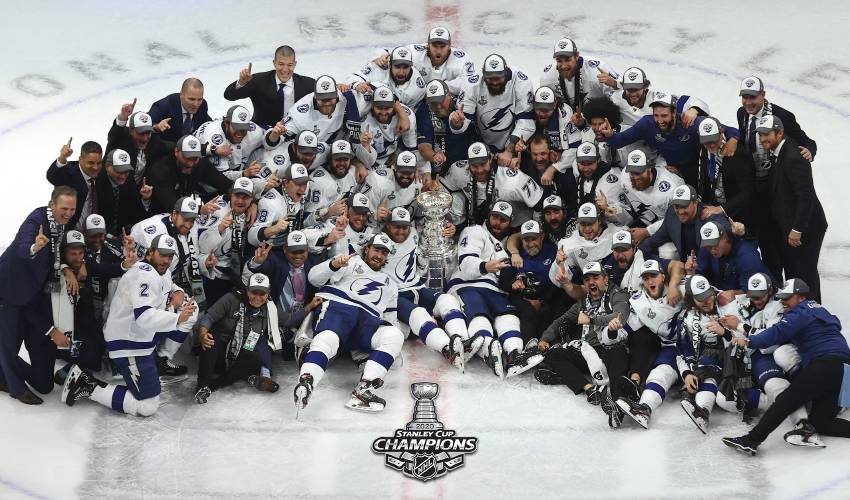 View comments (1)
Scott Donais (
Lightning)

On 31st May / 2:35pm

:

Thanks Fred!! Woo Woo!
New Comment
---
---
PHIL WINS AGAIN!!!
By Mark Donais (
Ducks) On Monday 24th April 2023 / 1:35pm
Standings
Rk
Team
Pts
1
Leafs
1154
2
Avalanche
1135
3
Lightning
1122
4
Stars
1097
5
Ducks
1047
Phil may never be able to assemble a team that will win a cup, but I would not want to cross him in a box pool where he can pick whoever he wants. B2B championships!
Here is the winning team:
McDavid/Barkov/Bergeron/Mackinnon
Fox/Makar
Lightning/Wings/Leafs
Jets/Oilers/Avalanche
View comments (2)
Keven Breton (
Coyotes)

On 25th April / 9:51am

:

Can I know who took Arizona?
Mark Donais (
Ducks)

On 1st May / 9:49pm

:

Not a soul
New Comment
---
---